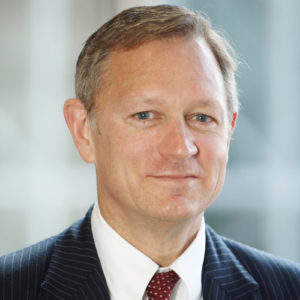 For seven years, Tom Bolt was director of performance management at Lloyd's of London. Now at Berkshire Hathaway Specialty Insurance, EXPOSURE asks him what it is like to be back on the front line and what it takes to stay there.
Few would argue that the insurance industry is not undergoing a period of pronounced change. External influences and internal forces are combining to create an environment full of new risks, ripe for new ideas, and open to new technologies and approaches. However, for Tom Bolt, president of Berkshire Hathaway Specialty Insurance for Southern Europe, no matter how strong these forces are or how many directions they come from, to win out the industry must hold true to the fundamental principles of insurance.
The nature of risk
For Bolt, one of the big challenges that the insurance industry is tackling head-on is the marked change in the nature of risk that has taken place in recent years due to an ever-shrinking and more joined-up world.
"Cyber is a prime example of this increasingly interconnected form of risk," he explains. "Here you are seeing the emergence of significant potential for non-physical damage-related exposures which means that we cannot simply parcel it up the way we would with physical damage. Such exposures require a whole new way of thinking about the nature of risk – and we must adopt that new way of thinking because these are increasingly the risks that our corporate clients want solutions for."
Any suggestion, however, that the insurance industry is unable or too slow to evolve with sufficient speed to meet these new demands is quickly rebuffed. "The ability to change and respond is part of the insurance industry's make-up," he states, "although whether it changes as a result of internal drivers or external forces is another question."
"A GOOD IDEA IN THE INSURANCE SECTOR CAN TRAVEL AROUND THE INDUSTRY IN A NANOSECOND. AS SOON AS IT IS OUT THERE, OTHER COMPANIES WILL BE QUICK TO FOLLOW"
While the rate of change today far outpaces any period in the industry's history, Bolt remains confident the market can keep pace due in particular to its ability to replicate good ideas. "A good idea in the insurance sector can travel around the industry in a nanosecond. As soon as it is out there, other companies will be quick to copy. In my view, while there are not that many first movers in the sector, there are a heck of a lot of really fast second adopters."
"Some companies will of course be left behind by this wave," he continues, "while those who fully engage with the process will find themselves in a much stronger position. You have to look at how you can take advantage of what is in front of you and not be too myopic in your approach."
Focusing our attention
A key factor in how the industry evolves will be where it chooses to invest. One area is data accumulation and management technologies, an area where Bolt believes significant advances have been made and new initiatives undertaken to push boundaries and expand the industry's ability to capitalize on a data-rich environment. However, he questions whether all organizations are making the right investments in their data infrastructures.
"You see a lot of people setting up architectures which are designed to increase the amount of data under management. Yet, I'm not sure you are seeing enough companies putting in place the supporting architecture that you need to translate that data into knowledge that will add real underwriting value."
While the availability of big data is expanding exponentially via a multitude of sources, the challenge is how to put it to best use. "The issue is not so much big data itself, but rather how you make the big data connections. Do companies have the people and systems in place that will enable them to link the data sets and reach meaningful conclusions that will tell them something different about a particular risk?"
Retail lines, he believes, provide the most fertile ground for those able to unlock the data potential. "The use of big data is much more prevalent in areas such as motor than it is in commercial lines because of the number of exposure units you have and the level of data you can accumulate. You have sufficient data at your disposal to generate a statistically credible database for such a book of business."
Telling the story
As advanced analytical techniques, such as machine learning, help better dissect and distil data, this will significantly boost the potential for greater automation which in turn will drive further commoditization of insurance products.
"Over time, any risks that can be commoditized will be commoditized," believes Bolt. "These will be the data-heavy lines of business, where machine learning can make a real difference to our understanding of the risk. But these techniques can't simply be applied to all types of risk. There are many exposures out there that don't conform to 'conventional' risk parameters. That is where the skill of the underwriter will be required."
Bolt uses the analogy of the trading floor to illustrate this point. "Let's take Wall Street. There you have guys who trade futures on derivatives such as treasury securities, for example. But you also have those who focus on corporate bond placements. These placements are referred to as 'story paper', because unlike the treasury securities, they require someone to be able to explain the story behind them."
"WHILE THERE ARE NOT THAT MANY FIRST MOVERS IN THE SECTOR, THERE ARE A HECK OF A LOT OF REALLY FAST SECOND ADOPTERS"
"A lot of the risks that come into the London Market today are what I would describe as 'story paper'. You need someone to be able to tell the story well and someone who can listen to that story and who has the imagination and the acumen to configure a policy based on that story."
Those companies which are not focused on translating these 'non-standard' risks into meaningful cover are probably not long for the insurance world, he believes. "If all you are doing is providing capacity for commoditized risks, then over time there is a very strong likelihood that the financial sector will simply put up commodity capital and pretty much remove the need for the underwriter in that scenario."
Keeping the customer front-and-center
Being able to put down these complex risk stories in a comprehensive and robust insurance policy requires hands-on underwriting expertise as well as the ability to work as closely as possible with the customer. However, while Bolt is confident that that expertise is in plentiful supply in specialist arenas such as London, he is concerned that the industry is not as close to the customer as it should be.
"I worry that the industry has in some ways lost sight of the customer," he says. "We see a lot of companies establishing partnerships with other organizations, consultants or services providers – and such partnerships are important to the robustness of our industry. But we must not forget that our closest partner should be the customer."
"Who is better placed to tell you about the risks they worry about than the customer themselves?" he asks. "In fact, increasingly they are finding their own way to solve many of these problems. What we need to do is work with them to develop solutions for those risks they can't solve. We have the data and the technology to replicate these risks, we just need to create the cover – that is the most effective and straightforward route to success going forward."
"For me, these are the fundamentals of what makes a great insurer," he concludes. "If you can stick to these principles – listen to your customer, structure a product that closely fits their needs and price it appropriately – then over time you will win out, even with the pressure for change that we are witnessing now. Yes, we must respond to these new dynamics, but also we must not forget what we stand for as an industry."
---
Career highlights
Tom Bolt is president of Berkshire Hathaway Specialty Insurance, Southern Europe. Tom has extensive experience in insurance and reinsurance, spanning the UK, Europe, and the U.S. He was most recently director of performance management at Lloyd's. Prior to that, he was managing director of Marlborough Managing Agency and spent 25 years at the Berkshire Hathaway Group in a variety of senior executive roles, including senior vice president of the Reinsurance Division, and managing director of Tenecom and BHIIL. Tom holds a bachelor's degree and a master's degree from Northwestern University.
---