California is bracing for a major storm this week. Many schools are closed and residents are hunkering down in preparation for potential flooding. Not to be outdone by the East Coast, which has come up with monikers like "snowmageddon" and "snowpocalypse" for their recent storms, some are referring to it as the "hellastorm."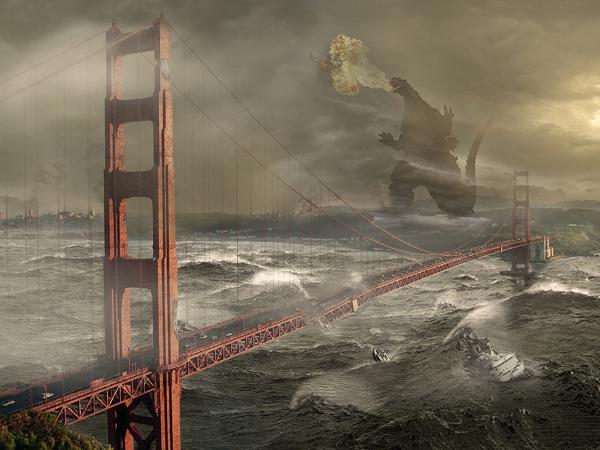 Source: twitter.com/AllyNgSF
So, what's the deal with the so-called "storm of the decade?"
It's getting rainy and windy on the West Coast.
Estimates this morning are predicting 1 to 5 inches of rain from Northern California up to Washington, 1 to 2 feet of snow in the Sierra Nevada mountains, and wind gusts over 50 miles per hour in the interior regions.
It will happen again.
Storms like these are not uncommon, occurring once every 5 to 10 years. So we could experience another one before the end of the decade.
The drought is partially to blame.
While drought conditions are not a necessity for these types of events, they can increase the impact of flooding because the ground cannot absorb water fast enough. The same can occur when the sustained heavy rain falls on ground is already saturated.
The current rain came all the way from Hawaii.
Storms like this are dependent on many variables. In this case, the excessive rain and snowfall is being driven by the position of the jet stream and what's known as the Pineapple Express, an atmospheric plume of tropical moisture that flows from the sub-tropics near Hawaii to the U.S. West Coast. It generally occurs during El Nino years, but in this case, forecast El Nino conditions did not fully develop. In other words, it's a weak one.
UPDATE: Northern California has gotten more than 8 inches of precipitation so far. Sustained winds were forecast to be up to hurricane force (70 to 80 mph) in the local mountains and up to 100 mph in the higher elevations across the Sierra summit. A wind gust to 147 mph was recorded at high altitude peak near Lake Tahoe, that had surfers catching 7-foot waves on the lake!